Modular Kitchen Makers In Meerut
Are you looking to transform your kitchen into a modern and stylish space? Do you want a kitchen that is not only aesthetically pleasing but also functional? Look no further than DNB Interiors, the leading modular kitchen makers in Meerut.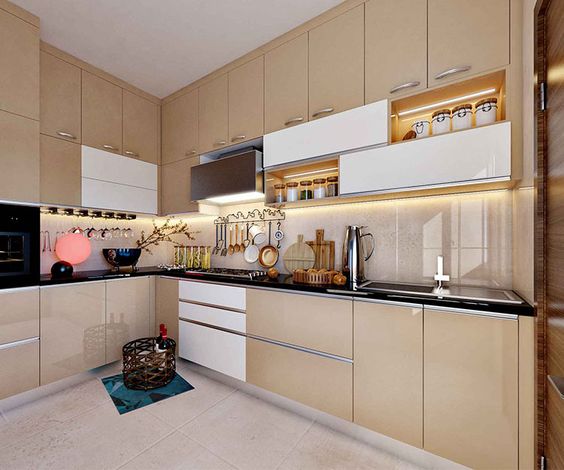 At DNB Interiors, we believe that a kitchen is the heart of every home, and we strive to create kitchens that are not only beautiful but also highly functional. Our team of experienced designers and craftsmen work together to bring your dream kitchen to life.
What is a modular kitchen?
Modular kitchens are a modern concept that has revolutionized the traditional kitchen space. In modular kitchens, the various components of the kitchen are pre-fabricated in a factory and then assembled on-site. This allows for greater flexibility in terms of design, as well as faster installation times.
Advantages of a modular kitchen
There are several advantages to opting for a modular kitchen over a traditional kitchen:
Customization:
Modular kitchens are highly customizable, allowing you to choose from a wide range of colors, materials, and finishes to create a kitchen that is uniquely yours.
Convenience:
Modular kitchens are designed for convenience, with features such as pull-out drawers, corner units, and built-in appliances that make cooking and cleaning easier.
Easy installation:
As the various components of a modular kitchen are pre-fabricated, installation is quick and easy, with minimal disruption to your daily routine.
Cost-effective:
While the initial cost of a modular kitchen may be higher than a traditional kitchen, the long-term savings in terms of maintenance and energy efficiency make it a cost-effective choice.
Why choose DNB Interiors for your Modular Kitchen Makers In Meerut?
At DNB Interiors, we are committed to providing our customers with the highest quality modular kitchens at an affordable price. Our team of experts work closely with you to understand your requirements and design a kitchen that meets your needs and budget.
Conclusion
In conclusion, a modular kitchen is a smart choice for those looking for a modern, stylish, and functional kitchen. With DNB Interiors, you can rest assured that you are getting the best modular kitchen makers in Meerut. Contact us today to get started on your dream kitchen!