Straight Modular Kitchen In Haridwar
A kitchen is not just a place for cooking; it's a space where you spend a lot of time preparing meals, entertaining guests, and making memories. Therefore, it's important to have a kitchen that is not only functional but also stylish. A straight modular kitchen is one of the most popular and practical solutions for modern homes. If you are based in Haridwar, DNB Interiors is the leading supplier of Straight Modular Kitchen In Haridwar.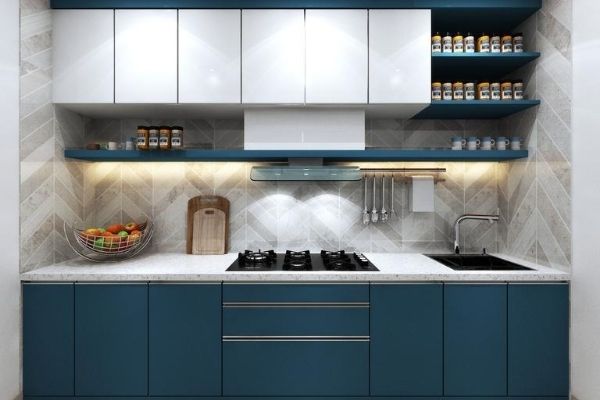 DNB Interiors is known for their innovative designs and high-quality products. With over a decade of experience in the industry, they have become the go-to supplier for modular kitchens in Haridwar. In this blog, we'll explore the benefits of choosing a straight modular kitchen from DNB Interiors.
Why choose a Straight Modular Kitchen In Haridwar from DNB Interiors?
Space-Saving Design
The straight modular kitchen design is ideal for small and compact spaces. It consists of a straight line of cabinets and appliances that are installed along one wall. This design is perfect for apartments or homes with limited space. By eliminating the need for a corner, the straight modular kitchen allows for better utilization of the available space. DNB Interiors offers a variety of configurations and sizes to fit any space.
Easy to Clean
One of the advantages of a straight modular kitchen is its easy-to-clean design. Because all the cabinets and appliances are installed along one wall, there are no hard-to-reach corners. This makes it easier to clean and maintain. Additionally, DNB Interiors uses high-quality materials that are easy to clean and maintain. Their cabinets are made of marine plywood, which is moisture-resistant and easy to clean.
Customized Solutions
At DNB Interiors, they understand that every customer has unique needs and preferences. That's why they offer customized solutions for their straight modular kitchens. They work closely with their clients to create a kitchen that is tailored to their specific needs. They offer a wide range of colors, materials, and finishes to choose from. Whether you want a classic or contemporary look, DNB Interiors can create a kitchen that reflects your personal style.
High-Quality Products
DNB Interiors is committed to providing high-quality products to their clients. They use only the best materials, hardware, and appliances to create their straight modular kitchens. They use high-quality marine plywood for their cabinets, which is not only durable but also moisture-resistant. They also use high-quality hardware and appliances from top brands to ensure maximum functionality and durability.
Professional Installation
At DNB Interiors, they have a team of skilled and experienced installers who can install your straight modular kitchen quickly and efficiently. They use advanced technology to create 3D models of your kitchen, which allows you to visualize the final product before the installation. They pay close attention to every detail, ensuring that the end result is a kitchen that is not only beautiful but also highly functional.
Conclusion
In conclusion, if you're looking for a straight modular kitchen in Haridwar, DNB Interiors is the best choice for you. With their space-saving design, easy-to-clean features, customized solutions, high-quality products, and professional installation, they are the ideal partner for all your kitchen needs. Contact DNB Interiors today and transform your kitchen into a modern, functional and stylish space.