Are you tired of the traditional kitchen designs and looking for a contemporary and stylish option? Then look no further, because DNB Interiors is the answer to all your kitchen needs. We are one of the top modular kitchen suppliers in Dehradun and have been providing exceptional kitchen solutions for over a decade. Our team of experts is dedicated to delivering high-quality and functional kitchens that meet the individual needs of each of our clients.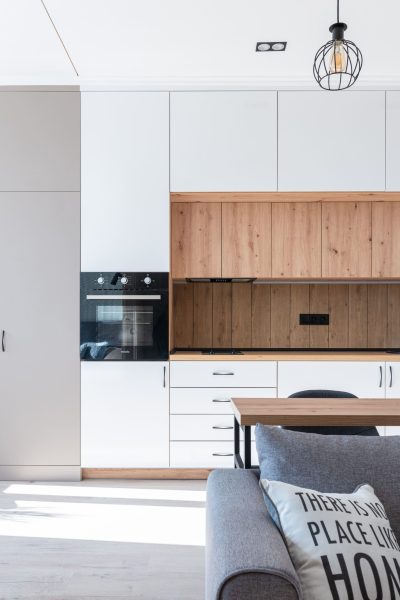 What is a Modular Kitchen?
A modular kitchen is a modern kitchen design that is made up of individual units or modules that can be easily assembled and disassembled. These units come in various sizes and designs, making it easy to create a custom kitchen that is both functional and aesthetically pleasing. The modular design allows for easy maintenance and replacement of any damaged or worn-out parts.
Why Choose DNB Interiors for Modular kitchen suppliers in dehradun?
Customizable Designs –
We understand that every household has different needs and requirements. That is why we offer a wide range of designs that can be customized to meet the specific requirements of each client. Our team of experts will work with you to create a kitchen that is both functional and stylish.
High-Quality Materials –
We only use the best materials in our kitchens. Our cabinets are made from high-quality MDF, which is strong, durable and long-lasting. We also use top-quality hardware to ensure that your cabinets are functional and easy to use.
Affordable Prices –
Our prices are highly competitive, and we offer flexible payment options to ensure that our clients can get the kitchen of their dreams without breaking the bank.
Expert Installation –
Our team of skilled professionals will install your kitchen with precision and care. We ensure that every part is put together correctly, so you can enjoy a functional and beautiful kitchen for years to come.
Warranty –
We stand behind our work, which is why we offer a warranty on all our kitchen products. If you experience any problems with your kitchen, we will be happy to assist you in resolving them.
Wide Range of Designs –
Our designs range from traditional to contemporary, and everything in between. Whether you want a classic kitchen with a modern twist, or a sleek and modern kitchen, we have a design that will meet your needs.
Exceptional Customer Service –
We value our customers, which is why we always strive to provide the best possible customer service. Our team is always available to answer any questions you may have and to provide you with the support you need to make the best decision for your home.
Conclusion
So if you're looking for high-quality modular kitchen suppliers in Dehradun, look no further than DNB Interiors. Our team of experts is dedicated to delivering exceptional kitchen solutions and making your kitchen dreams a reality. Contact us today to schedule a consultation and start designing your new kitchen.